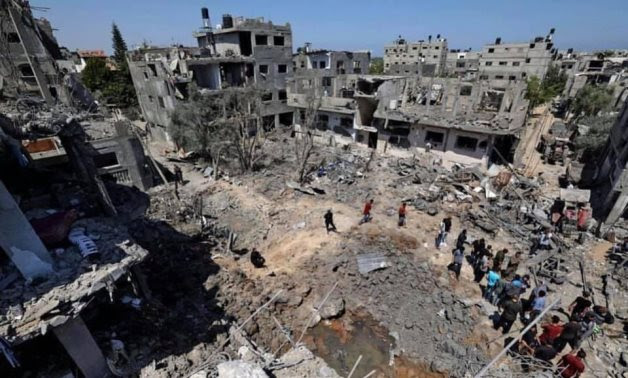 Race Alliance Wales condemns the latest surge of violence in the occupied Palestine territory, particularly in Gaza. As an organisation, we irrefutably condemn deadly acts of violence against innocent people, acts that violate international law (such as United Nations Security Council Resolution 2334).
During 11 days of carnage, hundreds of civilians died in occupied Palestine while hundreds have suffered life altering injuries. It was particularly horrifying to hear that ten members of an extended family were killed in Al-Shati refugee camp. These attacks were committed during the last spiritual days of Ramadan, and Eid Al-Fitr, a celebration, which marks the end of the Islamic month of fasting.
The bloodshed in Gaza has resulted in a humanitarian crisis where there is serious damage to civilian infrastructure- including roads, electricity lines and water supplies. People's homes have been obliterated where they have been left homeless, without essential medical care, food, and basic supplies. This is in addition to the Israeli imposed illegal blockade by land, air, and sea that prevents the free movement of goods and people in Gaza. Gaza is described as an open-air prison. Under the Geneva Convention, it is considered illegal for an occupying country to "deport or transfer parts of its own civilian population into the territory it occupies".
The indiscriminate firing of rockets in to Israel causing the fatalities of 12 innocent civilians, with hundreds of injuries is also unacceptable. We must recognise that violent brutality is never a means for resolution. First and foremost, civilians must be protected at all costs. Warfare and use of rockets can never preserve that.
We condemn the killing of innocent Israeli's, and we condemn the situation of apartheid in occupied Gaza and the West Bank, with the on-going annexation of Palestinian land. Palestinians are unlawfully, and forcibly removed from their homes, to construct settlements which are exclusively for Israeli people to live.
Palestinians should have the same rights and freedoms as anyone else. We stand in solidarity with Palestinian rights and freedom from oppression.
In Solidarity,
Race Alliance Wales